What is Crime Stoppers?
The Charlotte Crime Stoppers Program encourages citizens of the community to assist local law enforcement agencies in the fight against crime by overcoming the two key elements that inhibit community involvement: fear and apathy.
We want to know about burglaries, robberies, drug deals, vandalism, violent acts and threats of violence; any crime of a serious nature. And if you know of a crime that is about to be committed, we want to hear about that, too.
The Charlotte Crime Stoppers provides an anonymous, toll-free tip line, Web tipping and a mobile tip application to encourage citizens in the community to volunteer vital information helpful to law enforcement agencies to fight against crime.
The Charlotte Crime Stoppers toll-free tip line is available 24 hours a day, 7 days a week, 365 days a year!
Don't forget our Firearm by Felon Program!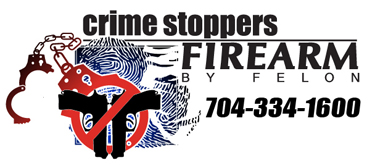 The Charlotte-Mecklenburg Police Department has launched a program intended to target felons carrying firearms in our community. The program will urge members of the community to call a dedicated phone line and forward anonymous information with the identity and whereabouts of a felon in the possession of a firearm. The anonymous caller will be eligible for a $500.00 reward if an arrest is made as a result of their anonymous tip. Additionally, anyone in the public who forwards information leading to the arrest of a person illegally carrying a firearm may be eligible for a cash reward.
During this campaign the community is asked to call our firearm tip line at 704.334.1600